CouponPress Plugin
Import coupon content directly into your website using the Feeds4.com CouponPress plugin.
The Feeds4.com CouponPress plugin offers CouponPress theme owners an automated process for updating your website and importing quality coupon content directly into your PremiumPress website. With a click of a mouse publishers can import thousands of stores and categories and set up scheduling to import coupons and promotional content on predefined schedules.
Mark Fail has developed a great theme for coupon publishers that reduces the setup costs of developing and maintaining a coupon website. Publishers can create a fully-functional, fully-automated coupon site in minutes using WordPress, CouponPress, and our CouponPress plugin which comes integrated with our web services.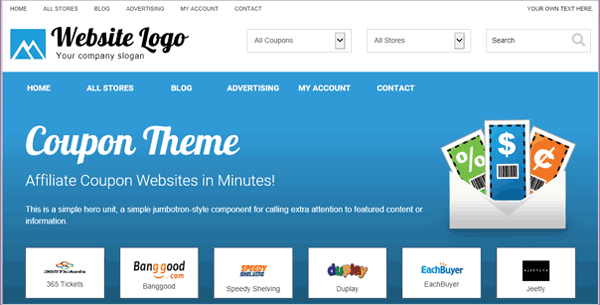 CouponPress Plugin 4.1.1 Now Available
On May 1st, 2019 we released our newest plugin for CouponPress by PremiumPress.
A lot of developement went into our latest version that allows for faster imports, security enhancements and integrates with WordPress 5.x.  Learm more about our CouponPress plugin here
CouponPress Plugin Setup
You must have an active Feeds4.com account to download our plugin or import content.
After your account is approved, you can choose the stores you want included in your coupon datafeed. You will also be able to download a copy of the Feeds4.com plugin for CouponPress from our downloads page.

Install the Feeds4.com CouponPress plugin and customize the settings for your website. Once everything is configured, you can import stores and coupons or set the plugin to do this automatically for you. Congrats, you now have a fully-automated coupon site.
Earn Revenue
Your account will start generating revenue when visitors use your coupons. Depending on the Feeds4.com plan you are subscribed to, either the networks will pay you directly or the payment will come from us.
Plugin Features
Publishers can choose the Feeds4 plan that best works for their account.
One click import for all stores, categories, and coupons.
Custom settings for default coupon code text, post status and author.
Import scheduling via cron.
Support and access to future upgrades.
7-day free trial included.
Frequently Asked Questions